Jeffrey Campbell shoes have been around for about ten years and specialize in mod, retro, and vintage styles shoes and boots. As soon as I saw these boots pop up on ModCloth, I knew they had to be mine.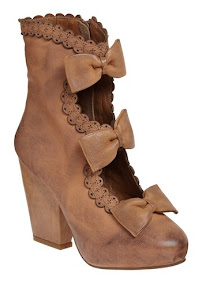 Victorian and Rococo-inspired, bows, little heel, concealed platform, scallopy lace-like detailing, so many things I love in a shoe all wrapped up in one. I literally posted it to my Tumblr and then ordered them an hour later.
As with any time I've ordered from ModCloth, the shipping was really fast. Less than a week in this case.
The box is adorable. I LOVE cute packaging! The box came a bit dented in the corner, which is strange because the shipping box was in perfect condition.
Despite the dent, there is no damage to the shoes, so yay!
As you can see, they're true to colour and style when compared to the photo from ModCloth. They also come with shoe covers/bags and replacement heels.
Some details: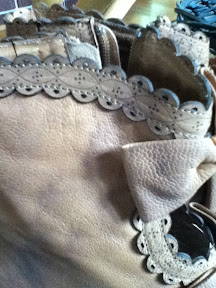 The scalloping is dainty and very detailed! Everything is sewn evenly as well. I love the vintage-look patina and colour!
So, about the sizing: I usually wear an 8, but I ordered these in an 8.5 because I have read that Jeffrey Campbell shoes run smallish. They definitely do! I suggest to order a half to full-size bigger than you would normally. Please note as well: the ankles/calves are VERY narrow. I wear a size 6 Canadian dress size, and these just fit my legs. They won't accommodate plus-sized legs sadly.
All in all, I am very, very pleased with these boots! They are exactly as shown on ModCloth, very cute, well-made and very comfy for heels! I also think this style will be very versatile in my wardrobe, and will easily be worn with Dolly Kei and Lolita. I would definitely purchase Jeffrey Campbell shoes in the future.
You can order these little lovelies
here from ModCloth
Jeffrey Campbell's main site
- Posted using BlogPress from my iPhone