I haven't posted one in a while since my phone camera is baaaaaad for this usually. But I really liked my outfit for work today, so meh, here's some fuzzy little pictures for you :)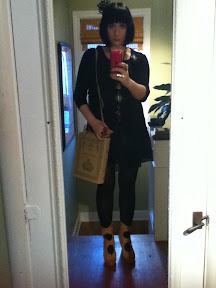 I have a really weird look on my face this whole time, just to warn you.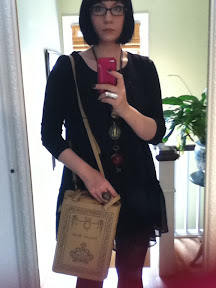 Then I decided I needed a brooch and less glasses.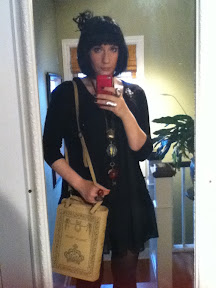 I cropped off my chin, it was looking weird, lol.
I was going for a really understated look, with the accessories "doing the talking" so to speak. I like how by wearing all black, they pop out do much. And since I chose to wear completely black, I made sure to have contrasting textures: chiffon/tulle dress and knits.
I'm wearing-
Dress: H&M Divided Black
Cropped cardigan: H&M Kids
Tights: Betsey Johnson
Shoes: Jeffrey Campbell
Bag: Innocent World
Necklaces: Suppurate System, Claires, made by me.
Rings: Suppurate System, vintage, Camden Market
Hair piece: handmade
Brooch: I forget
- Posted using BlogPress from my iPhone