I was very tempted to post snaps from the Grimoire 3rd Anniversary Party since all the staff looked so gorgeous! But I decided to stick to everyday wearable looks.
So my pics are: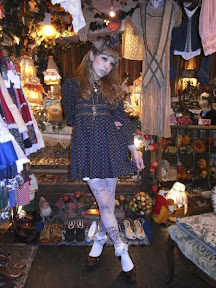 Kaori in this very simple and very cute coord. The shape of her dress reminds me of Courtney Love/kinderwhore from the 90s, I live this so much!
Saki doing some interesting layering with a sheer tulle skirt. I love a sheet skirt, dress or blouse to add layer details, and I love how summer appropriate this coord could be.
And...we have a fellow this week! One of the gents from Mad Tea Party to be exact. Love his shoes and love his hat!
- Posted using BlogPress from my iPhone