Moi-même-Moitié has long been one of my favorite brands, and a brand whose prints and pieces are easy to work into my Dolly Kei wardrobe. So when I saw that CD Japan still had some of the Holy Stained Glass print totes left, I ordered!
So briefly touching on CD Japan and their service: it was fast (considering we had a postal strike during my order), and they sent notification e-mails every step of the way. You also receive points for everything your order which can be put towards future purchases. Everything arrived packed very securely. And since MMM is hard to come by without a shopping service, I'll definitely be using them again. Very pleased!
On to the Moi-même-Moitié:
Firstly: the print is very crisp and clear, no smudging or blurring.
The inside has two pockets, perfect for your phone and keys. It's lined in the famous "Mana blue".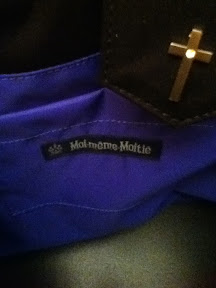 Secondly, the bag is very big! A lot of Moitié purses (and Lolita brand bags in general) are pretty small and not always great for everyday when you're a pack-rat like myself. This is great! Look at all the stuff I can fit in it!
I'm very pleased with the tote! It's exactly as shown on the site, and more than big enough tonhd all my things!
Me with a derp-face, and my bag.
Besides the Moi-même-Moitié tote, I also ordered a Kalafina "Magia" tour Eco-tote.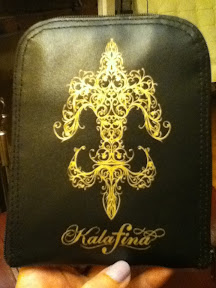 It comes in a brown fake leather pouch, which unzips to reveal a printed tote. The pouch forms the bottom of the bag so it's nice and solid!
The bag isn't the highest quality, but it'll hold unplanned purchases just fine. And I'm happy with it since I Iove Kalafina so much.
(Kalafina is a Dolly Kei band from Japan, definitely look them up if you enjoy orchestral pop and great visuals!)
- Posted using BlogPress from my iPhone