Candy Violet, once known for being a North American lolita brand, has changed gears and now seems to be offering mostly vintage and retro-inspired fare.
I happened to be browsing their site today when I found this: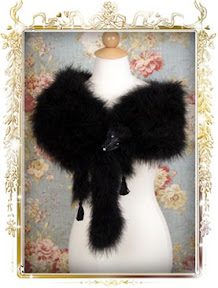 A faux-fur fox stole. With a fake little fox head! I'm very excited!
The site's item description is:
"A whimsical play on the old fashioned fox stoles so popular in the past. Covered in marabou feathers this little fella has a hand sculpted faux fox head up top with little pearl eyes, and a fluffy "tail" and tassel weighted "legs" at the bottom."
It's available in several colours, and is handmade to order.
I haven't decided if I will be ordering one yet, but I think this is a great option for anyone who wants to add a fox stole to their dolly wardrobe but doesn't want real fur.
Click here for Candy Violet site, item details, and ordering information
- Posted using BlogPress from my iPhone