It's getting warmer out. Soon it's going to be REALLY warm. And a style that involves such a commitment to layers like Dolly does, can be a little difficult to simplify, let alone make summer-suitable. But, it can be done! You're just going to have to re-think your layers, and what constitutes your layers.
*Firstly, say toodles to your tights. Or at the very least, bid adieu to your thick, patterned, textured tights. Instead go bare-legged, or say hello to the wonderful world of lace tights. A loose-knit lace tight is almost the same as a bare leg.
Depending on your outfit, you could also consider a fishnet as well. You could also opt for ankle, knee, or over-the-knee socks. I personally think ankle socks are a really cute look for summer.
*Let go of your layers. Keep it simple when it comes to your actual garments of clothing. Choose lighter and more breathable "summer friendly" fabrics like cotton. Choose a single dress or shirt/skirt combination and just don't add anything else to it garment-wise. One shirt, one dress, no cardigans, no sweaters, no heavy shawls, no capelettes. If you really feel the need for another layer, opt instead for things like a loose crotchet shawl, lace vest or a longer light fabric scarf you can remove easily if you get too warm.
So long as the cut/shape of your outfit fits the dolly silhouette, and the style/embellishments are there, you can still put together a dolly coordinate using less.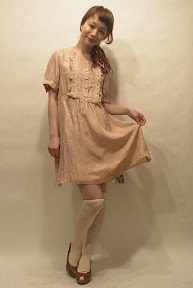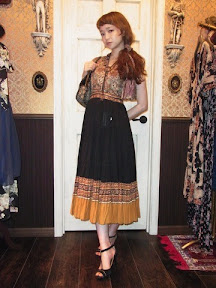 Mai is a really good example to look to when it comes to keeping garments simple and working with one layer.
*There's been a trend in Dolly the last little, of incorporating printed tops. You can easily do this for summer by doing this with a t-shirt. Band t's, lolita cutsews, experiment!
*Consider taking your hemline on the shorter side. The hemline rules that dominate lolita are not present with Dolly, so why not? That said, if you're not comfortable with that, consider maxi-length (super long) skirts and dresses in cotton as well. Maxi dresses and skirts are actually really cool in summer. And there's any number of style and lengths available in most stores now in great prints!
Another option is something you don't see often with Dolly, but that can definitely work. Vintage style shorts, harem pants, knicker-style pants paired with things like vintage sandals, ankle socks, tassel belts and suspenders are all workable options (I'll actually be covering pants/shorts with Dolly Kei in the next couple weeks).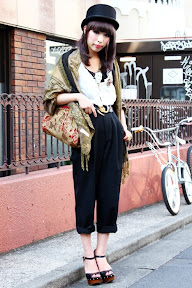 *Use your accessories to add more layers. Wear multiple necklaces, brooches etc. to keep the layered feel while wearing less clothing. I also think the summer is a good time to experiment! Go a little more extravagant and avante garde with your accessories since your clothing will be so much simpler. Feather earrings, crazy hair pieces, tassel belts, maybe try a more "out-there" purse. All easy ways to add more layers, details and interest without adding more warmth.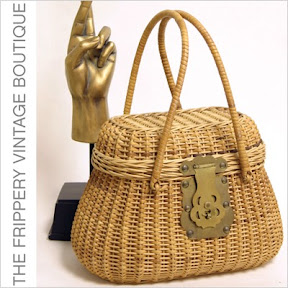 Instead of wearing fur stoles, collars etc., add fur accessories like a tail to your purse or bag.
A single oddfellows collar won't add much warmth or weight, so I think they're an item that will carry though summer and add the distinct dolly feel to your outfit.
*Your shoes. I love Victorian-inspired booties and oxfords as much as the next person, but they just aren't the most comfortable thing in summer. Look instead to vintage-inspired sandals, bohemian wedges, peep-toes and cute flats. A lot of people would argue to not wear socks with sandals, but like I said before: cute ankle socks with vintage (or vintage look sandals) look very cute and very dolly.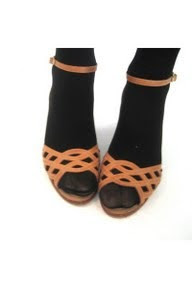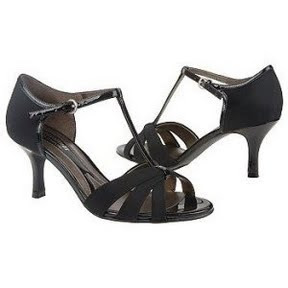 Another thing you can add to make your shoes (and possible lack of socks and tights) more interesting, are "ballet socks", which can add such a cute point of interest.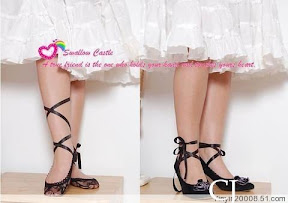 You could also add things like bows, flowers or vintage shoe clips.
*Hair. Summer is a great time for up-dos, so experiment with braids and buns, anything that will keep the hair off of your neck.
To summarize, it's going to be easier and cooler to put the focus on your accessories, and keep your clothing light and simple. I'm not saying be boring, I'm not saying to wear summer colours or summer trends. But let your accessories do the talking and carry the dolly "feel" for your outfits in the summer months :)
*Gentlemen! I haven't forgotten about you here! Like the ladies, opt out of many layers and simplify with fabrics like cottons and linens. Over-sized cotton button-downs and tailored linen shorts can go a long way with the right accessories and a great bag. Suspenders and an oddfellows collar is also a super easy way to add layers without warmth. I know a lot of guys don't like sandals, so maybe loafers or oxfords with ankle socks or sockless could substitute :)
- Posted using BlogPress from my iPhone