After 2 years without new releases, Suppurate System is finally releasing new accessories! I'm so excited! Although Suppurate System is typically associated with goth, gothic lolita and visual kei, I've always felt many of their pieces would be amazing incorporated with dolly kei.
Translated from their Japanese online store:
"It comes and the store is grateful truly. At present with SUPPURATE SYSTEM it directs to the long-awaited new work accessory sale which is after approximately two years and becomes quasi- Bicchu. Decadent dark tea party - dark corruption tea meeting - the accessory which is made theme successively is appearance! We plan 5/5 sales. Now please wait for a while."
The new line is called "Decadent Dark Tea Party", and in true Suppurate System style, the pieces are dark, creepy and strangely beautiful.
Some of the pieces:
Bloody Apple Baby Necklace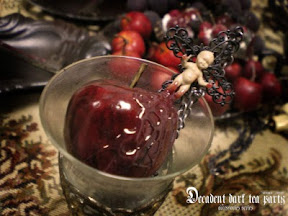 Skull Berry Key Necklace
Coffin Cookie Necklace
I'm in love with every single piece! But I've ordered the Skull Berry Key necklace and Coffin Cookie ring! I'm thinking I might need the Bloody Apple Baby necklace too, it's so weird...
To see the rest of the collection,
click here
- Posted using BlogPress from my iPhone