Finally!
Not a lot of pictures yet, but enough that we can definitely get a feeling for the decor. While the clothing carried in Almadel seems to be the same fare as the original Grimoire shop, the interior for Almadel is definitely lighter, less cluttered, and more...flowery?
Some lovely dolly girls waiting outside Almadel.
I'm trying to figure out who the new shop girls are! Edit: it does indeed to appear to be Mai, Saki and Eri.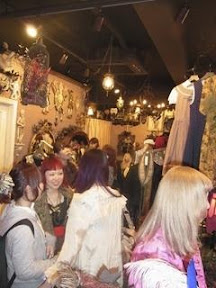 Almadel also has it's own shop blog now, where you can find more pictures and comments on the opening: http://yaplog.jp/almadel/
And as I posted earlier, Almadel's twitter: http://twitter.com/#!/GrimoireAlmadel
Heri, wearing an Almadel badge (she's changed her hair colour again too!), which were given to the first 100 customers.
I did a quick babelfish translate of the Grimoire blog entry on the Almadel opening, but unfortunately, it didn't translate in a way that particularly made any sense so I don't have much more to add sadly.
I am dying to see more though!
- Posted using BlogPress from my iPhone