I hope everyone is having a lovely Hallowe'en! I spent the night at home, watching Antiques Roadshow and eating candy, haha! Here's a little personal pic of my jack-o-lanterns though :)
And now for my favorite snaps of the last week:
Can we really say "old-school" Dolly Kei yet? This is reminiscent of style we saw early on, but not so much anymore. From ridsnap I believe.
Kaori, understatedly elegant, from the Grimoire blog.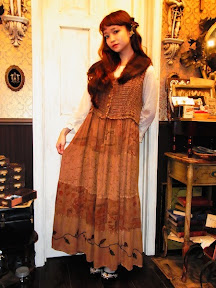 Mai in a fur stole from the Grimoire Almadel blog.
Don't eat too much candy everyone!
- Posted using BlogPress from my iPhone