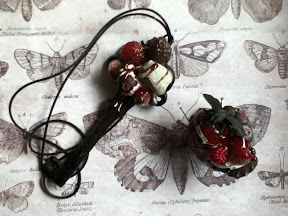 Finally! After months of waiting I have them!
I ordered: Skull-Berry Key Necklace, 6,200yen and Coffin Cookie Ring (Type: Ant), 5,800yen (and paid for EMS).
I placed my order on May 6th using Suppurate System's new international webshop. It was for pre-order, so I assumed it would take a little longer to receive them as the items were not in production yet. I received my confirmation e-mail right away. I didn't hear anything else from them until June 24th, when I received an e-mail letting me know that they had indeed gotten my payment, that the product launch was scheduled for July, and that they would e-mail me again when they sent out my items. Months went by, no package from them, no e-mails. So finally on Sept. 28th, I sent them an inquiry with all my order information asking if the line had been launched, and of the status of my order. I didn't ever receive an answer, but my items showed up October 21st.
The lack of communication was very disappointing, as was the amount of time it took to receive my items. Like I said, I knew ad a pre-order it would take some time, but I feel this is a little much.
On to the items themselves:
It arrived in an EMS envelope.
There was some bubble wrap inside (not much), and each piece was concealed in a little plastic bag.
There were also 3 Blood mini posters and 1 Tokami (both bands have done collaborations with Suppurate System).
So the first thing I noticed: They sent me the wrong ring. I had ordered the ant version, and they sent me the bee. I like bees, and I'm not going to bother sending it back, but I ordered the ant. Second thing: one of the berries on the ring is smashed.
The ring is adjustable, but probably won't fit larger hands.
The necklace arrived with the cord being stuck to the back of the key in a way so that I couldn't wear it. I had to tear it off. It looked as if the glue hadn't been dry when they packaged it, and it accidentally got stuck.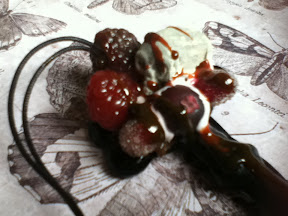 The quality for Suppurate System can be hit or miss, but I have to say despite other flaws in this experience with them, the quality is quite good. The key on the necklace is quite heavy and sturdy, all the pieces are secure and of good quality. I wore the key to work today and it held up without problem, and looked great.
I definitely am disappointed with my experience with Suppurate System for this order. Especially where all my experiences beforehand had been so positive. I think for the price of the items, they should have shipped them in a more secure box, and sent me the item I ordered. It seems like it may fare better to just order from their Japanese site and use a shopping service. The items themselves are gorgeous, but the service is lacking.
- Posted using BlogPress from my iPhone