Another week of busy life schedules interfering with my blog schedule :(
I'll be back to posting "Favorite Snaps" on Mondays, "Inspirations" will be moved to Wednesdays, and hopefully I'll be able to fill in the in-betweens with trends etc.
I've also bought a few iPhone apps and have been using them, so I'll have some reviews for them as well. ( I find it hard to find apps that appeal to me ).
I'll also be adding little things like nail polish tests too.
Here's to getting back on track!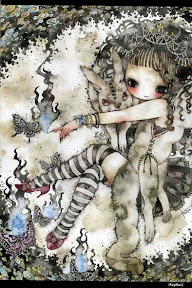 ( The beautiful illustration above is by one of my favorites artists, Yoh. )
- Posted using BlogPress from my iPhone