This is actually going to be " Favorite Snaps of the Last Three Weeks". And we have:
Heri from the Grimoire blog. Everything about this is perfect dolly kei to me. I especially live the rich colours.
Miyoshi, Grimoire Almadel blog. Just really cute.
Saki, Grimoire. I like the more mature route she took here. You could easily wear this to work or school.
Miyoshi again. I love the hat and the transparent skirt.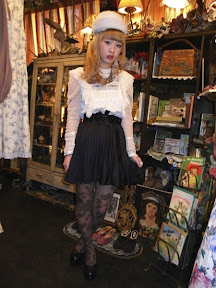 And...more Miyoshi! Everything about this is adorable. Understated and simple but the hat brings it to over the top!
Kaori, Grimoire blog. Just love this, great layering, again, love the hat!
Saki, stripped bloomers, enough said! From the Grimoire blog.
I think this came from shiftsnap. At any rate, it's crazy and amazing.
I know, I know, this is really more cult party. But I love it so I'm posting it anyhow. From DropTokyo?
Again, we're verging on cult party here but it's adorable and therefore being posted. From DropTokyo?
Goodness it was hard to pair this down to just these choices!
- Posted using BlogPress from my iPhone