My first week getting back from Montreal has been hectic, and as a result my blog posts have been almost non-existent. Hopefully this week I can remedy that with some hauls and fall trends!
But today is Monday, and that means Favorite Snaps of the Week! Here we go:
Kaori, Grimoire Almadel blog. Simple and cute. I love her red socks and bowler hat.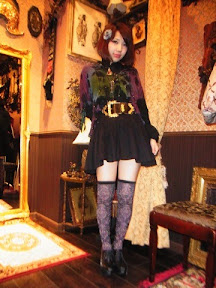 A classic Heri look, from the Grimoire blog.
Also ladies and gents: I'm always looking for more sources for the favorite snaps. Do you dress in dolly? If you'd like to be considered, you can contact me at DollyMacabre@gmail.com
If a snap is used you would naturally get full credit, and I would provide a link to your blog etc.
:)
- Posted using BlogPress from my iPhone