I was having technical trouble with my blogging app last night, sorry for the delay!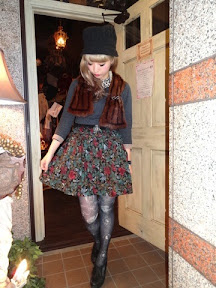 From the Grimoire blog, Miyoshi. Simple, easy, and striking.
Kaori, from the Grimoire Almadel blog. I love her use of a graphic t-shirt but a more casual, but still very eye-catching look! I also love the hat/hair combo she's been sporting lately.
Also from the Grimoire Almadel blog, new shop girl Miwako. Miwako has been bringing a very dominant kodona/boystyle flavor to Dolly Kei, I hope she keeps it up!
Boystyle in Dolly? What do we think?
- Posted using BlogPress from my iPhone