I received a question a couple of days back, via a tumblr anon, as to what sort of nails/nail polish did I think work best with Dolly Kei.
To answer this simply: I really think anything can work. Whatever kind of nails you like! I do everything from plain red polish, to crazy hime nails with bows and whatnot. My nails are currently navy blue (OPI Russian Navy).
My personal preferences lean towards either red, or other dark colours. I also wear a lot of acrylics. I like my nails a little short too.
Some of my nails from the past: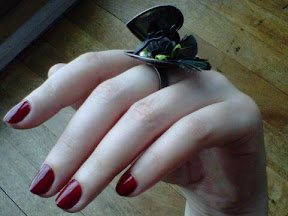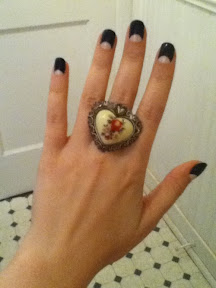 Really, just have them however you like! I do suggest investing in a high quality polish though. The colour will last longer, and it will be more resistant to chipping. Top coats and base coats go a long way to protecting your colour as well.
My favorite nail polish brands are OPI/Nicole, Essie, China Glaze, Gosh and Sephora.
I have so much polish! But these are my main "go-tos" that I keep on my vanity (as you can see, I pretty much stick with red, green, blue and black):
Some surprisingly inexpensive selections where the quality is still pretty good:
From left to right: H&M $1.95, Forever 21 $3.95, Rimmel $5.95, and Sephora (mini) $7.
For acrylics, if I don't get them done professionally, I like the ones from "Icing". They last really well, they have a large selection, and they come in a wide range of lengths.
Something I can not stress enough: Let your nails "rest" between colours and acrylic sets. I'm really bad for not always doing this, but if I do back to back colour/fakes, I try to give my nails a full week "off" afterwards. Polish can stain your nails (Especially reds! But a base coat can help guard against this.), and acrylics can pit and warp your nails. During my nails "rest" period, I do plenty of moisturizing (I'll use an intense body butter), hand scrubs (I like Bath & Body's "just a minute" manicure scrub), and vitamin E treatments (Just break open a vitamin E caplet and massage it into your nails). Something I also like to do is to use a professional-grade polish remover, as this will reduce the amount of time your nails are soaking in acetone (which can lead to flakey and brittle nails/yellowing). Also make sure to rinse your hands off as soon as you're done and moisturize. When doing acrylics, also make sure to soak them off in remover, never pull them off!
What are some nail tricks for care or nail art that you guys use? Do you have any favorite brands that you swear by?
- Posted using BlogPress from my iPhone