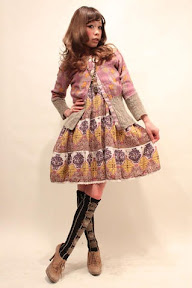 Spring is here! It's finally warming up and we can bring out our lighter clothing. Spring generally signifies wardrobe changes, and this will include our Dolly outfits as well.
You've probably noticed in the last little while that Dolly Kei street snaps, and coord posts on the Grimoire shop blog, have been making a move from tights to knee and over-the-knee socks. Whether this is a general trend, or simply a sign of the season change, remains to be seen.
So, how do we go about working the socks into our wardrobes?
Firstly, this look is definitely going to work best (visual-wise) with knee length and shorter hemlines. A basic "rule" (and I'm using the term very, very loosely) could be: shorter hem = longer socks, longer hem = shorter socks. I say this because I feel that you still want the overall look to be demure, and with a shorter hem and knee socks, you can run the risk of getting a "school girl" look. You also want to have the contrast so as to add to the layered feel of Dolly.
I personally adore the way OTKs look with a shorter skirt!
By all means, use a patterned sock! It too will add to the overall contrast and layers of your coord (but, it's very important for a pattern sock to fit properly. Too tight is not going to look good). That said, a good alternative to this is to simply layer two pairs of solid coloured socks over each other, like Kaori is in the picture below. This is great for anyone who feels a bit insecure about their legs (pattern can be unforgiving, it can also be difficult to find patterned socks in larger sizes so that the pattern doesn't stretch funny) or if you feel you already have enough pattern on top.
Another way to wear this look, (especially if it's still a bit chilly, or if you simply don't want your legs to be exposed) is to pair your patterned socks over a pair of solid tights. It will give you the exact same affect, but without your legs being bare.
At this point, I'm going to make a little suggestion to make your life easier: sock glue. Yes, the very same kind used in Japan by school girls. It comes in cute little bottles, can easily be ordered online if you don't have access to an Asian market (yesstyle.com and j-list usually have it in stock), and will save you the constant pull-up sock tug that is pretty much par for the course with OTK socks.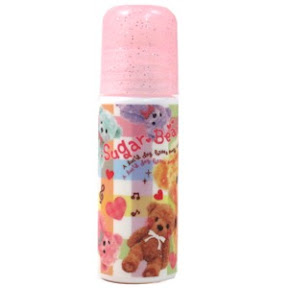 I myself have been having a hard time finding suitable patterned socks in stores here, so I've been going online. Celeste Stein carries their prints in both knee and OTK lengths on their online shop, and sockdreams.com have a huge selection of styles as well. Also, don't count out classic and gothic lolita brands.
Of course, this look isn't going to be for everyone, and you can absolutely do amazing Dolly coords for spring and summer without them! (I'm definitely not saying bye-bye to my tights anytime soon). Just some hopefully helpful pointers for anyone who might be interested :)
- Posted using BlogPress from my iPhone