Back from Cape Breton! I found some neat places there and will have some pictures up tomorrow (if you follow my Instagram, you've already seen some!).
Anyhow...
Yukari in a solid black outfit. Her sandals make it very dainty, and as always, I am SO jealous of her beautiful hair! From the Grimoire Almadel blog.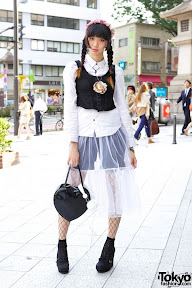 This isn't dolly kei in the strictest sense, however, close enough that I'm going to use it. You could argue cult party as well. But. I LOVE EVERYTHING ABOUT THIS. I am thrilled with her use of a corset, and in love with the hair/floral wreath combination. I want to put together something like this for work. ALL OF MY YES.
- Posted using BlogPress from my iPhone