I usually just choose two, but I have four this week because I couldn't choose.
Monday, Monday, here we go: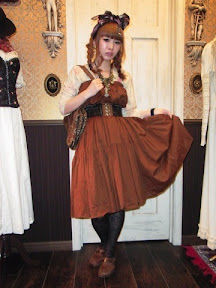 Miyoshi from the Grimoire Almadel blog. I just love the layering of this coord, and the use of solid colour as opposed to lots of pattern. A really simple and pretty look!
Sort of an understated look for Heri, and I lovelovelove this skirt!
This looks to be Miyoshi, at Grimoire Almadel. I love the prairie-esque styling.
And lastly, a Dolly boy from JapaneseStreets.com (his name is listed as Ryo). I love the neutrals and his Reinette et Mirabelle fox head.
- Posted using BlogPress from my iPhone