Wednesday was a beautiful and sunny afternoon, so I made the most of it. Before leaving work, I took a peek into Claire's, and found a matching brooch to a necklace I had purchased there about a month ago. (crap pictures because I'm still doing this from an iPhone app)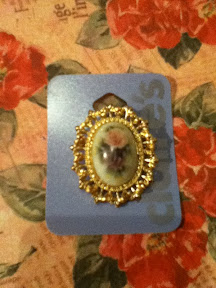 I took the bus downtown to meet up with two of my friends, but I was really, really early, so I took a little walk through the commons and down to St. Patrick's Cemetary. I love St. Patrick's for a couple reasons: it's hidden, no one else is ever there. It has a beautiful view of the harbour. And the gravestones are old and have that nice weathered look to them. I want to do rubbings of them someday.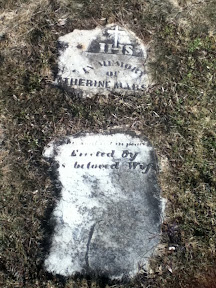 After that I strolled over to "Two if by Sea" to meet my friends. Two if by Sea is a fancy bakery and cafe which I had continuously heard great things about, but had never had the chance to visit. And I have to say, it lived up to the hype. I ordered a cafe latte and a croissant de chocolat, and they were so delicious! I will definitely be going back.
Onwards from there, we took a trip down to Value Village to see what strange things they had around. I found some antique spoons to add to my collection!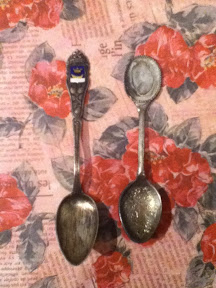 The last two have dogs on them. And I love how the second spoon on the top has detailing right in the "scoop". I have so many spoons now, I might start selling some of the ones I've made into jewelry, we'll see. Hope anyone reading this had a great Wednesday as well!
- Posted using BlogPress from my iPhone